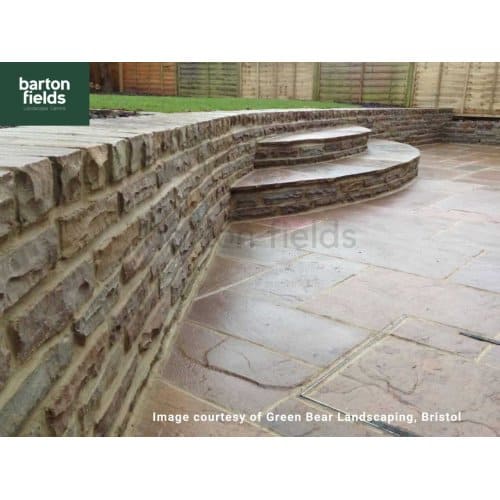 Natural Sandstone Walling in a colour described as Raj A stunning natural decorative walling option that can be used to complement stone paving as part of an overall design, or simply used on its own to create a beautiful looking wall. Raj is a colour that consists of warm muted grey, green, brown and plum type tones. The colour of the blocks will vary from piece to piece, adding to the characteristics of this natural product. Block sizes 325mm x 100mm x 55-75mm. The face of the stone is natural split riven.
Pack Size: 4.5m2 (Face Metres) 210 Pieces Per Pack
Note - This product is shipped direct from the docks and not kept in stock at Barton Fields Landscape Centre.
Delivery charges can be found on the delivery page. Or, you can se the delivery estimator on the side of this page, or in the checkout pages.

Natural Sandstone Walling in Raj Colour, 325mmx100mmx55mm-75mm, Packs of 4.5m2