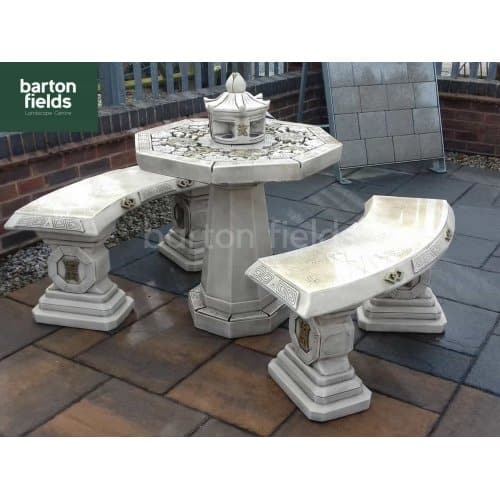 Oriental 3 Piece Patio Set. A beautiful stoneware product with an aged appearance in the style of an oriental table and matching benches . An exceptional ornamental product that are handmade by skilled craftsmen using locally produced reconstituted stone and traditional methods. These items are individually unique and are seldom uniform or entirely perfect including colour tone. The quality of the construction enables outdoor display whatever the conditions. Colour: Aged Grey, a fusion of Grey and Charcoal tones.
Table Size: 700mm High x 700mm Diameter
Bench Size: 460mm High x 1120mm Width
Delivery charges can be found on the delivery page. Or, you can se the delivery estimator on the side of this page, or in the checkout pages.

Oriental 3 Piece Patio Set in Aged Grey Finish